KBB REALTORS: Hodges Flanagan Team
Posted by Kissinger Bigatel & Brower REALTORS on Tuesday, November 3, 2020 at 9:00 AM
By Kissinger Bigatel & Brower REALTORS / November 3, 2020
Comment
KBB Agents: Hodges Flanagan Team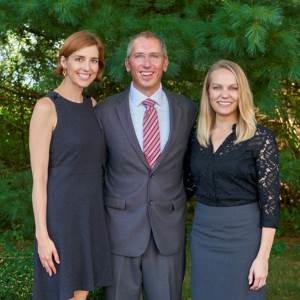 Commitment to Your Goals. Commitment to our Community.
Mary Hodges and Timothy Flanagan​
Mary grew up in the Boston area, though her family is originally from Pennsylvania. Tim grew up in Northeastern Pennsylvania, affectionately known as NEPA (KNEE-pah). After some time in D.C., they came home to Pennsylvania. They love the quality of life Central PA has to offer: the Pennsylvania scenery, the welcoming people of Central PA, and the charm of Centre County's distinct neighborhoods can't be beat! They currently reside in the Park Forest neighborhood of Patton Township with their two beautiful children, Eleanor and Patrick.
Alongside Mary and Tim:
Nicole McNeil-
Nicole hails from Southeastern PA, relocating to the State College area for graduate school over 8 years ago. She loved the area so much that she never left! Currently calling Lemont home, Nicole lives with her husband Casey, son Finn, and two rescue dogs. She loves exploring all that State College has to offer- from the excellent outdoor hiking, cross country skiing, and scenery, to the music and arts culture that permeates the region.
Erin Evans-
Originally from a small town in Northern PA, Erin moved to State College as a Penn State freshman. As often happens, she fell in love with the area and decided to make it her home! Her love for real estate began when she and her husband Zack purchased their first home in Lemont. Though she has relocated to Pittsburgh to be closer to family, she works remotely as the Director of Operations for the Hodges Flanagan Team, assisting with the details and coordination involved after a property is under contract.


About the Team:
Why Real Estate? Real estate is opportunity. For our buyers and sellers, real estate is an opportunity to find their place and build wealth. In our own lives, real estate has been the difference between opportunity and not. There's no better motivator than knowing you can make a tangible, real difference in people's lives.
What is your favorite thing about your job? There is no such thing as monotony in real estate! Every day is a new puzzle to figure out. Plus, we get to work with the most fun and interesting people!
What is something most people don't know about you? Mary and Tim's wedding reception was in the bumper car pavilion of an old amusement park!
Fun Fact: When our team has free time, we can usually be found enjoying good food from one of our many amazing local restaurants. We love supporting the local businesses, non-profits, and institutions that make Happy Valley unique!
"Above all, we want to exceed your expectations and ensure your satisfaction before, during, and after your transaction. From your first interaction with us, we are completely committed to your real estate goals. We don't just relay information — we provide analysis and advice. Let our 20+ years of real estate, finance, and negotiation experience work for you! Whether you are a first-time homebuyer or a real estate veteran, we will represent your interests the way we would for our own family. We have worked on hundreds of transactions, and we've learned a thing or two along the way!"
Contact:
Mary Hodges: 814-826-1449 | mhodges@1kbb.com
Timothy Flanagan: 814-954-0190 | timothy@1kbb.com
Visit their website: https://www.happyvalleyhomesales.com/
View Mary & Tim's Listings: