Employer Highlight: Penn State University
Posted by Liz Piazza on Tuesday, January 21, 2020 at 12:29 PM
By Liz Piazza / January 21, 2020
Comment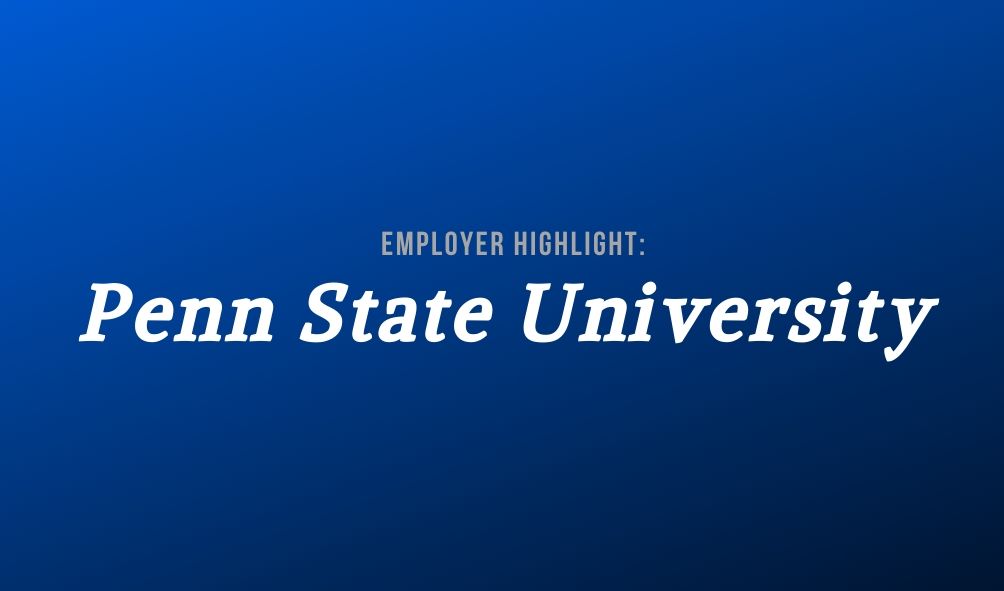 The Pennsylvania State University is a state-related university with multiple campuses throughout Pennsylvania. Its main campus is right here in State College, Pennsylvania.
Founded as the Farmers' High School of Pennsylvania in the mid-1850s, the school has a long history of research and public service. And, with a student population of more than 46,800 graduate and undergraduate students at its University Park campus in State College, it's no surprise that it's the largest employer in Centre County, with over 17,000 staff and faculty members.
Penn State is known as a great place to work, offering many excellent health-, financial- and professional growth-related benefits. Countless families move to the region each year to reap these benefits and experience all that Central Pennsylvania has to offer.
Working at Penn State can mean a variety of things. While the positions of professor and classroom staff are common job openings, you'll encounter a variety of support staff and research-related roles as well. In fact, there are over 19 different job families within the university, and over 175 different job profiles! We encourage anyone with an interest in working in the area to take a look at the Penn State employment website. On any given day, you'll find new postings ranging from postdoctoral scholar to dishwasher to bus driver – there's a place for everyone here.
And no matter the role, Penn State makes sure its employees are well taken care of. Employees are offered two medical plans to choose from, vision and dental coverage, short- and long-term disability, life insurance, two retirement plans and more.
Another fantastic benefit is a tuition discount that applies to full-time faculty staff members, their spouse and children. This is an affordable way to receive a quality education, as the grant-in-aid is for 75 percent of tuition costs!
If the benefits and the heavily discounted tuition rate aren't enough, consider the lifestyle you can live here: Enjoy big city amenities with the conveniences of small-town living. There's a reason they call the State College area "Happy Valley" … it truly is a wonderful place to live!
ABOUT THE SCHOOL
As the state's only land-grand university, Penn State has a broad mission that includes not only teaching, but research and public service.
It all began in 1855 when the state chartered the school to be one of the nation's first colleges of agricultural science, with the specific goal of applying scientific principles to farming.
The Congressional passage of the Morrill Land-Grant Act of 1862 had a profound impact on this and other schools, as it allowed states to sell federal land and invest the proceeds in higher education. In 1863, the Pennsylvania legislature designated Penn State as the state's sole land-grant institution.
It was in these early days that many of the beloved Penn State traditions began. The Creamery, for example, got its start in the "College Barns" in 1865, and the well-known official colors of blue and white were chosen in 1890.
As the 19th century wore on, academic choices broadened to include not just agricultural-centered studies, but also engineering, sciences, liberal arts and more. In the early 1900s, the school introduced the cooperative extension and additional outreach programming, which remains a valued part of Penn State's local legacy.
In the early 1920s the school began the formation of its graduate school. These programs grew hand in hand with the school's research, leading to international distinction for investigations in dairy science, building insulation, diesel engines, acoustics and more.
The following decade saw the introduction of a series of undergraduate branch campuses. These campuses were primarily implemented to meet the needs of location-bound students during the Great Depression, but they still serve the Commonwealth today. Currently, there are 24 Penn State campuses located throughout the state, covering a combined total of 22,000 acres – slightly larger than Manhattan!
Other events of historical importance include the formation of a college of medicine and a teaching hospital in 1967, thanks to generous donations from chocolate magnate Milton S. Hershey; the joining of the oldest law school in the state – Dickinson School of Law – with Penn State in 1997; and the formation of Penn State's online World Campus in 2000, which currently enrolls more than 10,000 learners.
WHAT'S IMPORTANT AT PENN STATE
Penn State values diversity and inclusion, which are deeply rooted in the school's historic mission. The school is committed to a diverse educational environment and community for all to feel comfortable. The school values and endeavors to be a mix of cultural backgrounds, life experiences and individual perspectives, hoping they bring variety and experience to the workplace.
From innovative research to world-class education, the success of Penn State is founded upon the ambition of its students and staff. This ambition isn't limited but is instead enhanced by its aim to be sustainable in all things. Viewed as the simultaneous pursuit of human health and happiness, environmental quality and economic well-being for this generation and the following, this is a goal the school sees as something necessary for us all to prosper – both today and tomorrow.
DID YOU KNOW?
On home football Saturdays, State College becomes the third-largest city in Pennsylvania, with a population of over 230,000.
The Berkey Creamery is the largest university creamery in the world.
Penn State's Beaver Stadium is the fourth largest stadium in the world.
Before the Nittany Lion was the famed Penn State mascot, there was Old Coaly, a mule from Kentucky that helped build Old Main.
It's commonly believed that the Lion Shrine is the second-most photographed landmark in Pennsylvania.
The school has 24 campuses, 100,000 students (including more than 17,000 adult learners) and 17,000 faculty members. It confers 20,000 degrees each year.
First-generation college students make up about a quarter of the student body.
More than $850 million of research is conducted at Penn State each year.
The school has the largest dues-paying alumni association in the world.